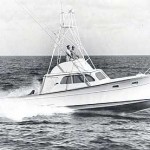 Merritt boats have been chosen for their fishing ability by some of the top anglers in the world since the late 50's. They were built during the hay day of the bluefin tuna fishery in the Bahamas which helped their construction evolution.  Top Anglers had them built and top captains who fished them had input into their construction which make them very good fishing boats today. In that era of fishing many developments in boats and tackle that we know today were built into these boats. 50 years of fishing evolution uses the ground work in design still used in tackle today. Tuna towers and the modern day fighting chairs and tuna doors were modeled during this era, changing fishing forever.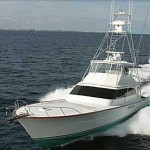 The Merritts were and big part of the way that modern day boats look and fish. Because of their fish-ability and beauty they are chosen time and time again by anglers and captains that appreciate vintage boats and their history. As a bonus they are wonderful fishing machines and with few modern changes, they continue to catch fish extremely well. The modern day yard where the Northern Lights was built is now state of the art and produce some of the most beautiful yacht built today.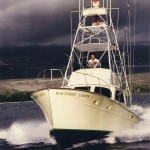 The Northern Lights was built in 1963 and is hull number 11. After being shortly owned by 3 different owners she was bought and taken to Kona, Hawaii in 1980. Named the "Maverick" she was fished by the late captains Mike Benham and Mike Fairfield. The duo made an early name for the boat which attracted the attention of an Alaskan Captain and his wife Kelly and Jocelyn Everette. They purchased the boat in 1984 and took her to an industrial shed and began a one year renovation of her. The fur hull was taken to the wood and all of the varnished mahogany was painfully refinished giving her a yacht finish and solid base for future care.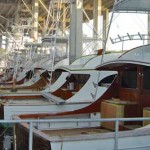 Kelly's attention to detail and desire to keep the boat as original as possible added months of work to the job but in doing so he preserved the history and original beauty built into the boat nearly 20 years earlier. Once completed in 1985 she was launched once again with the name the Northern Lights. The Everettes caught numerous world records on the boat and to this day both hold the men's and women's world records for Pacific Blues on 30 pound test. Kelly's being and impressive 1102 pounds caught on june 25th 1987 with captain Carl Schloder.
THE LIGHTSPEED ERA
2008 turned out to be a great season of fishing for the team and served as the end of the an era. Terry Fohey has been a great fishing partner and part of the family here in Kona and one of the best partner I could have dreamed of having. It was an adjustment for me to try to picture my fishing on the boat without Terry involved due to the great times we shared on the boat and how well the fishing and business went. The transition period was painful as I looked at an uncertain future for me, the boat, my crew and my family. The word that the boat came for sale went out and we waited to see if there was any interest.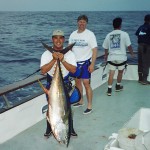 Rob McCarthy was one of the first to show interest in the program and looked into the terms it would take to be my new partner. After a month of work with Terry and Rob and both of their teams I am able to stay on the Northern Lights to continue our fishing odyssey. I  didn't have to leave the tuned in boat my crew and I  love so much. The Northern Lights now has teamed up with the Lightspeed, a 47 Cabo that Rob and his captain Rob Ellyn brought to Kona in 2007.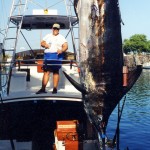 As we embark on a new legacy we take what we have learned the first 10 years and apply to the next 10 to give everyone our best. We sure love the boat and all she has done for me, my crew and my family. The memories of the time we have spent with the Foheys every summer for 10 years have been priceless. We look forward to many good times ahead with Rob on the Lightspeed and the Northern Lights. My gratitude to both Rob and Terry for everything is endless as we head into the The Lightspeed Era.
The Lightspeed was delivered Aug of 2000 from Cabo Yachts. Its maiden voyage was from New Port Beach California to Cabo San Lucas. The Lightspeed found early success while fishing in Cabo placing first in the tag and release division of the worlds biggest fishing tournament The Bisbees Black and blue. Capt Danniel Alverez and and anglers Norm Isaccs and Rob McCarthy tag and released 12 fish to win their first event within a few months of her delivery. The Light speed struck again the following year with a 4th place finish in the Bisbees Black and blue winning a daily in the process which accounts for its biggest win to date with Capt Daniel and co capt Rob Ellyn and anglers Rob Mc Carthy and will McCarthy took 212,000.00 for the daily and 4th place.
THE FOHEY ERA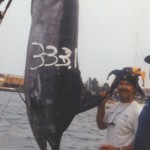 Terry Fohey  CEO of Nucaft Dental arts of Bogart Georgia began his early offshore fishing out of Destin Florida and caught a 333 Atlantic Blue Marlin that changed his fishing career forever.  Terry was hooked. After a number of trips to Destin he and his captain and crew made a trip to the Great Barrier Reef in 1992 where he fished on the Duyfken where he met Capt Peter B Wright, Scott Levin and Kevin Nakamaru. His first day on the reef first few hours fought a fish that was eaten by the sharks that was well over the 1000 pound mark. Over the course of the week he was there he caught numerous fish that fed his love for heavy tackle fishing.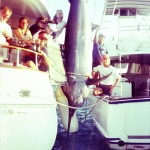 Terry coming so close to a 1000 pound fish his first trip found him back in 1993 on his honeymoon. On the Duyfken's last day of the season Terry weighed a 1188 Black after a 15 minute fight. " I remember what a great catch that was, said Capt Kevin Nakamaru who wired the fish. "Terry is a strong angler and did a great job." "We were coming off of a great season on the reef and Pete, Scotty, and I were fishing very well." "I can remember the boat work and how the 4 of us worked as a team and it was a great feeling to see things go so well" said  Kevin.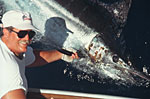 When you experience such a great catch together the bond that formed between them was one that would begin a long friendship that resulted in many great days at sea to come. Terry's adventures found him fishing with Kevin and Scotty in Kona and Madeira and anywhere big fish swam. On his first trip to Madeira  in 1995 Terry weighed a 1075 pound Atlantic Blue Marlin on his 3rd day there which marked his second grander of a different species.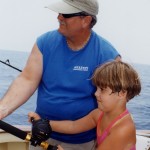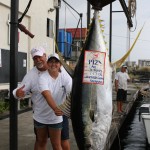 What do you do once you have caught 2 species of 1000 pound marlin? Go for the 3rd. Kevin and Terry teamed up to try to be the first angler captain or crew to weight the 3 species. He bought the Northern Lights to focus his effort in the Pacific where the 3rd species is found. Kona, Hawaii would end up being a great place to fish for a grander and teach his family about the ocean and about the wonderful culture of Hawaii.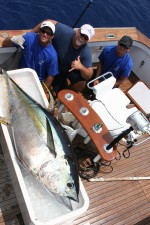 Terry has been a great partner to have own the Northern Lights. "When it came time to move my focus of fishing to Kona he was a great choice because I enjoyed the fishing I have had with him all over the world."said Capt Kevin." He is a true heavy tackle angler that knows the ropes when it comes to enjoying our days at sea waiting for the big ones. We have had fantastic days in between our shots at granders." If the truth were to be told Terry and I love to see his daughters catch fish that anything else. One of our best days at sea together his daughter Hutton caught her first marlin when she was 6 years old. That afternoon Terry caught a fish close to 800 that really made what we are doing in Kona really work out well.
THE EVERETTE ERA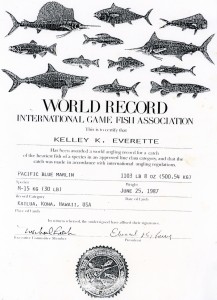 Kelly and his wife Jocelyn Everette were able to leave a mark in the fishing in Kona by their attention to their boat and their love of light tackle fishing. Kelly had the abilty to assemble some of the best captains and crews that ever fished together here in Kona. With these crews they took extreme care of their boat and tackle resulting in the results they were looking for. Not only was the Northern Lights a beautiful boat she was catching records and high ratio catches which gave the Everettes a place in the top boats in the Kona fleet at the time. History was changed when Kelly caught an 1103 Pacific Blue Marlin on 30 pound test. This increadable catch cemented Kelly into fishing history as an angler with a record many anglers would never try going for due to it's degree of difficulty. As a captain Kelly was able to catch numerous records for his wife and clients and most significant the women's 30 pound test record 632 by Jocelyn in 1989. (See record list) The Everettes took a lot of pride in the boat and in their fishing and made the name Northern Lights a house hold name in Kona with what they did with the boat.