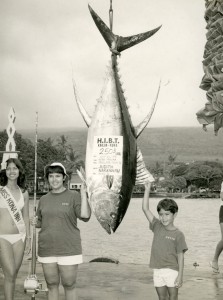 Kevin Nakamaru was born and raised in Kona, Hawaii where his pasion all of his life was fishing. He was hooked at an early age when his mom caught her first marlin when he was three years old. With his parents and three sisters he fished for tuna and marlin in their family boat in the calm waters off Kona. He caught his first marlin when he was nine and his first big tuna when he was ten. His mom and dad were active members of trolling clubs including the Hawaii Big Game Fishing Club and the IGFA. All the fishing they did was by the rules. Even following the tournament rules, Kevin's parents' fishing resulted in a number of records for Kevin's mom.In 1975 she caught a 565 pound Blue Marlin on fifty pound test and a 231 pound yellowfin tuna on eighty. In 1976 she broke her own tuna record with a 250 pounder. It was during those years that Kevin's foundation for fishing was being set for the fishing to come.
After graduating from high school, Kevin attended college in Colorado where he tied flies and guided trout fishing on the famed San Juan River for trophy trout in New Mexico. During his summers he fished Kona, either working on charter boats or often fishing alone on his dad's boat.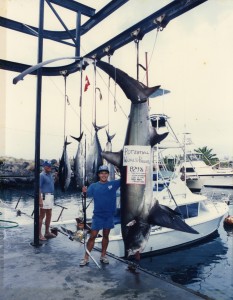 One of his most notable catches as an angler came during a summer while night fishing for swordfish and tuna with Capt. Freddy Rice on the Ihu Nui. This time he caught a 829 pound thresher shark on 130 pound test. It would have been the all tackle record had they had a crew that night. What happened was that Freddie and Kevin were alone fishing. When the thresher struck, Freddie had to drive the boat while Kevin pulled in the sea anchor and cleared the other lines. In the time it took to do all that, the rod had been left in the rod holder too long to make the catch IGFA legal. This thresher was the largest ever caught on rod and reel anywhere in the world at that time and stood as the Hawaiian and Pacific record.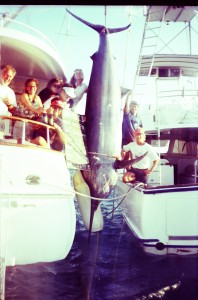 After graduating from Fort Lewis College with a degree in Fine Art, Kevin took a year to travel and fish, and to see some of the famed spots he had read about and dreamed of all his life. One of these spots was the Great Barrier Reef off of Australia's Queensland coast. His luck was good when he got a job with Capt. Peter Wright on the Duyfken the following year. This was the opportunity of a lifetime for Kevin. It was a time when all of the base skills that he had learned could be polished by learning Peter's world class techniques. Their most notable catches during the three seasons they fished together were black marlins weighing 1,210, 1,188, and 1,020 pounds. They won the Dunk Island Classic three years in a row, and in 1994 won or placed in every major tournament held in Queensland including winning the Lexus and Lizard Island tournaments.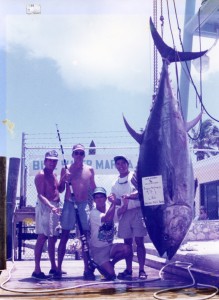 Kevin often traveled with Peter during these years. One of the best trips he made was to Bimini, Bahamas, to fish for bluefin tuna off Cat Key. Their last day there they caught a 971 pound bluefin tuna off Sandy Cay that was the Bahamas record at that time. He also spent a few days in North Carolina where he tagged forty six bluefin tuna in three days.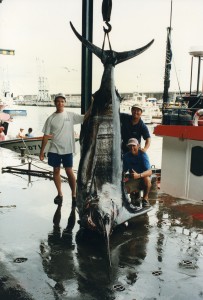 The dream to travel and see the world took Kevin to Madeira, Portugal where he ran the thirty foot express Pesca Grossa for five years during Madeira's peak seasons. He weighed a 1,075 and an 1,188 pound Atlantic blue marlin at a time when catching granders was common in that area. He released a number of fish that taped out well into the mark. They caught a number of big eye tuna including severalin the 300 pound class and one that weighed in at 330 pounds. They caught many fish over 700 pounds in the same day. On June 26, 1996 angler Ken Corday caught an 1,100 pound fish and another of 750 pounds and another one of 550 pounds. On the same day a year later, and nearly to the hour, he caught one that weighed 1,170 pounds. Kevin says, "What made the experience even better was catching those quality fish for all the great anglers we got to fish with. We learned a lot and got to spend time with fishermen with the same spirit for fishing the next best spot. The culture and the beauty of the island was so memorable."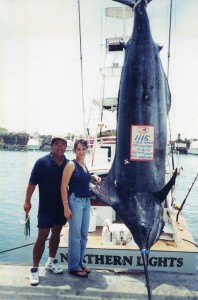 Once the fishing slowed in Madeira, Kevin returned home to Kona to pursue a childhood dream of skippering a Merritt. When the Northern Lights came up for sale, Kevin and Terry Fohey bought it. They share a unique friendship centered on the same goal…enjoying the fishing on the way to the next 1,000 pound fish. It was on the Northern Lights that Kevin's most significant catch was made. He was the first angler, captain or crew to catch three thousand-pound billfish of different species by landing an 1,115 Pacific Blue on April 6,2000. This was the Triple Crown of Granders when added to the grander black marlins he caught in Australia and Atlantic blue marlins caught in Madeira. In the summer of 2005 an important record was made onboard Northern Lights. With Kevin as Captain and Terry Fohey in the chair, they caught and released eight blue marlin on one day beating the previous Kona record of six in one day. Two days later they tied their eight-catch record again but lost the ninth at the boat.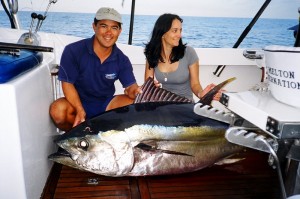 The foundation for fishing that Kevin was given by his parents from such a young age has led him to numerous noteable catches, including over twenty billfish and tuna world records and numerous tournament wins. His love of fishing and continued learning has kept him on the cutting edge of fishing. Kevin says, "I really enjoy the charter fishing here in Kona because there are so many talented captains and crews that it provides us with a great opportunity to learn from each other. I feel fortunate to have seen a lot of great fishing early in my life and am ready to face the biggest challenge ahead, raising my children."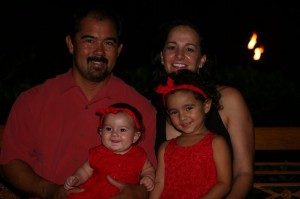 Today Kevin spends most of his time in Kona charter fishing on the Northern Lights, traveling for two weeks at a time and raising his family with his Madeiran wife, Elizabete, and their two daughters Gabriella and Juliana.